Some interesting statistics from three consecutive Russia's Air, Navy and Army exhibitions in 2021.
Translation: MOSCOW, September 7. / TASS /. Rosoboronexport (part of the Rostec state corporation) signed contracts for the supply of weapons worth € 3 billion (more than $3.5 billion) during the International Maritime Defense Show (IMDS-2021), the MAKS-2021 air show and the Army-2021 international forum held in the summer. This was reported to journalists on Tuesday in the press service of the company.
In general, Rosoboronexport's contract portfolio today is around $52 billion and it is a whopping sum, considering non-stop sabotage and sanctions from the United States and her lap-dogs. Yet, even NATO is not impervious to those pesky Russian weapon systems.
We may continue with trying to explain fully Turkey's increasing military cooperation with Russia until hell freezes over, but the simple truth is that it is all about the bottom line. Does Erdogan (and Turkey) buy S-400s because they want to increase leverage on NATO? Absolutely! Does Turkey buy S-400 as a demonstration of her independence from anyone? You can bet your ass on it. But in the end, the bottom line is this: you want to survive in the modern world--you need those Russian systems which constantly, not-stop, perform in real combat and perform well. Of course in Turkish case we have what nobody could even conceive 10 years ago: overwhelming number of Turks not only want closer relations with Russia, but consider Russia a strategic ally. Remember this?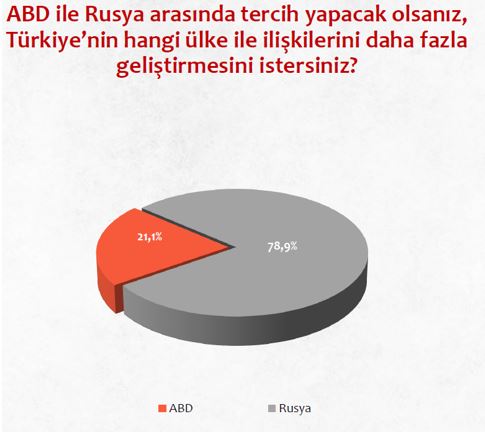 I wrote about it before. In the end, grossly oversold Turkish-made Bayraktars turned out to be not exactly fully Turkish-made and once Canada and other Western contractors who provided guidance and targeting systems for those UAVs refused to supply them, Turkey started to experience difficulties with production. Russians, though, say that they will help Turkey with her own indigenous 5th generation fighter and Russia has no problems with allowing Turkey to produce SU-35s. Russians will stick to contractual obligations and short of war, will continue with them politics notwithstanding.
Saudis got the message, when signed last week military cooperation agreement with Russia. This is not to mention the fact that Houthis do not allow Saudis to rest.
Authorities in Saudi Arabia say they have intercepted three ballistic missiles targeting the country's oil-rich eastern region as well as the cities of Najran and Jazan in the south. There was no immediate claim of responsibility for Saturday's attacks, but the Saudi-led coalition fighting the Houthis in Yemen blamed the Iran-aligned rebel group. There were no reports of casualties. A source familiar with the matter told the Reuters news agency that the missile aimed at the eastern region was intercepted over the city of Dammam. Shrapnel from the missile scattered over the Dammam Suburb neighborhood, injuring two Saudi children, while 14 homes suffered light damages, the official SPA news agency said, citing a statement by the defense ministry.
Obviously, the United States is very unhappy, because for many years after the collapse of the Soviet Union the United States considered arms trade and domination of the lucrative global arms markets its forte'. But things change, as does technology, tactics, operational art and strategy. It is about adapting, it always was and today the United States is not competitive across several important segments of weapons' market among which air-defense, armor and missile strike systems are most noticeable. It is not just technology issue--it is a doctrinal one. Afghanistan factor, moreover, will continue to impede American military-technological competitiveness on the international arms market, no matter how all kinds of "arms trade" observers, such as SIPRI, among many, will play (or falsify) statistics. There is very little doubt that Afghanistan was merely a visual representation for laymen of the process which started immediately after the Gulf War and which exercised a baneful influence on "American Way of War". Arms trade merely reflects a long-time trend in warfare which experienced a truly revolutionary development starting from early 2000s, the same way as era of sail yielded to the steam-driven and armored ships... times ten. Expect a lot of butt-hurt in Western media.